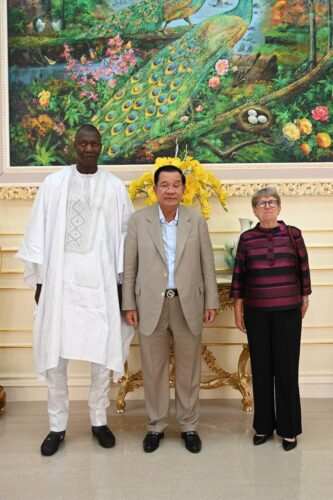 On the morning of September 1, 2023, Samdech Techo Hun Sen, Chairman of HM the King's Personal Advisory Council, met with Ms. Eva Mysliwiec, Executive Director and Mohamad Dierra, a newly appointed Managing Director of Samdech Hun Sen School Complex in Bamako, Mali to examine the situation and achievements scored so far as well as the vision of this school complex in the future.
Samdech Techo expressed his satisfaction with the good management of Samdech Hun Sen School Complex, which has been able to cover all its operating expenses since 2018 based on the income of tuition fees and other achievements so far as it wins the rank among the top 5 most prestigious schools in Mali.
With the encouragement of the management to continue its efforts to ensure the sustainability of the school in order to achieve the development of multi-tier education schools in the future, Samdech Techo decided to provide 70 scholarships places to the management of the institution for the period 10 years (2023-2033), for which, 40 places for primary school students and 30 places for secondary school students.
In response, on behalf of Samdech Hun Sen School Complex, Ms. Eva Mysliwiec and Mr. Mohamad Dierra expressed their deep gratitude for Samdech Techo's precious gift and generous gestures to all Malian boys and girls, as well as Cambodia's contribution to the field of education of Mali.
Samdech Hun Sen School Complex in Bamako, Mali was established in 2013 with the support of Samdech Techo. It is the project of Ms. Eva Mysliwiec and another Malian partner within the framework of strengthening solidarity between the two countries within the Francophone family, in the framework of developing countries and in the South-South partnership cooperation.
All classes at this school are taught in French, the official language of Mali. "Every morning, two flags are flown on the roof top of the school – the Malian flag and the Cambodian flag," Eva was quoted as saying. Every year, students attend a class on the history of Cambodia. Mali and Cambodia have much in common. Both countries are agricultural countries. Both countries have been great empires in the past. Students at the Samdech Hun Sen School Complex know about Cambodia and even correct their parents in pronouncing the word "Samdech" in the name of the school, "Samdech Hun Sen school complex"./.